Columbia River flood basalts, associated rhyolites, and diverse post-plume volcanism in eastern Oregon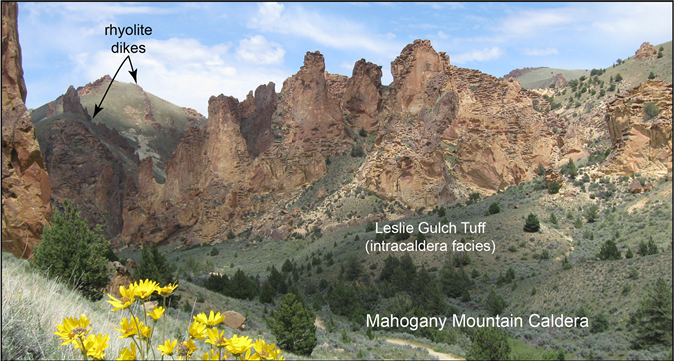 Post-conference field trip, August 19-22, max/min number of participants, 25/12
The Miocene Columbia River Basalt Group (CRBG) is the youngest and best preserved continental flood basalt province on Earth, linked in space and time with a compositionally diverse succession of volcanic rocks that partially record the apparent emergence and passage of the Yellowstone plume head through eastern Oregon during the late Cenozoic. This four-day geologic excursion will explore the stratigraphic and geochemical relationships between lava flows of the CRBG and coeval rhyolites of the early "Yellowstone track" as well as compositionally diverse volcanic rocks that immediately postdate the main CRBG units in eastern Oregon. Highlights include traversing the "great flows" of the CRBG, rhyolites of the Lake Owhyee volcanic field (e.g. thick intra-caldera tuffs of the Mahogany Mountain caldera and flow units of the widespread Dinner Creek Tuff), CRBG vent complexes, spectacularly exposed bimodal (rhyolite-basalt) sequences including 'Snake River-type' rhyolites, and much more— including observing the total solar eclipse on the morning of the third day, August 21st.
Logistics:
We will leave at 9 a.m. from the Oregon Convention Center on the 19th and return to the Center by 4 p.m on the 22nd. 
Estimated cost:
$500/person includes double occupancy lodging ($580 for single occupancy), transportation, continental breakfast, lunches, and dinner on the second evening.  Participants will be responsible for their own dinners on other nights and any breakfast beyond the continental breakfast provided by the lodging. 
Leaders:
Mark Ferns, Eastern Oregon University; mferns@eou.edu
Martin Streck, Portland State University; steckm@pdx.edu
Jason McClaughry, Oregon Department of Geology and Mineral Industries; jason.mcclaughry@dogami.state.or.us